Trade-fair participations
ZellCheming
• ZellCheming 2012
• ZellCheming 2011
• ZellCheming 2010
• ZellCheming 2009
• ZellCheming 2008
Steinexpo
• Steinexpo 2017
• Steinexpo 2014
• Steinexpo 2011
Löhnsberger Abwassertage
• Löhnberger Abwassertage 2013
• Löhnberger Abwassertage 2012
• Löhnberger Abwassertage 2011
• Löhnberger Abwassertage 2010
47. VDBUM-Seminar 2018
Dieses Jahr haben wir zum ersten mal an dem VDBUM-Seminar teilgenommen.
Vor Ort war eine Beratung durch unsere qualifizierten Außendienstmitarbeiter möglich in z.B. folgenden Bereichen:
Produktentwicklungen, Flockungsmittel für Sand-, Kies- und Schotterwäsche, u.v.m.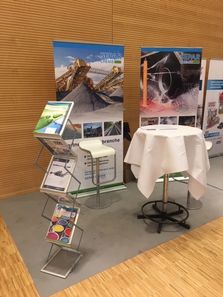 Steinexpo 2017
Bereits zum dritten Mal haben wir die Steinexpo in Homberg/Nieder-Ofleiden, mit einem eigenen Stand erfolgreich beendet. Es fanden viele erfolgversprechende Gespäche mit potentiellen Kunden aus dem In- und Ausland statt.
Steinexpo 2014
For the second time we present our products at the 9. International demonstration show for the construction materials industry, the Steinexpo 2014, in Homberg/Olm, Niederofleiden from 3rd to  6th of September 2014.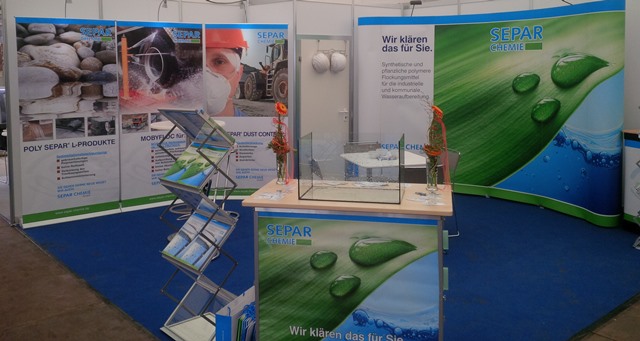 Please visit our stand in Pavillon 2, P 219. We look forward to talking to you about:
Treatment of circuit water from stone-working
Treatment of circuit water from wheel washing systems
Solid-liquid separation
Sludge thickening
Cleansing of rinsing water from tunnel boring
Contact